Dec 07 2022
Book Launch | Joan Jonas: Moving off the Land
Wed | 7PM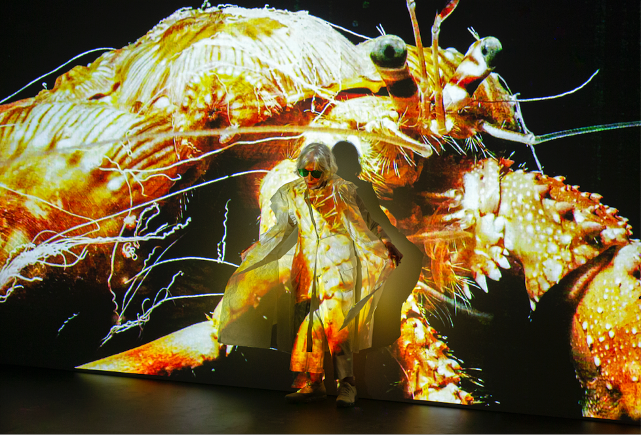 Please join us for the U.S. launch of Joan Jonas: Moving off the Land. On the occasion of the launch, Jonas will be joined in conversation by biologist and writer Jonathan Balcombe, TBA21–Academy Director Markus Reymann and SI Director Stefanie Hessler.
Jonas's new publication closely follows the development of her evolving work, Moving Off the Land, from its first iteration as a lecture-demonstration at Vasco da Gama Square in Kochi, India in 2016, to the exhibition and performance that inaugurated TBA21–Academy's Ocean Space in Venice in 2019. Grounded in three years of research into the significance of the ocean as a totemic spiritual and cultural reference throughout history, Jonas conjured an aquatic universe of mythological and real figures, where stories of beauty and ecological urgency emerge. The complete script for the performance, along with the artist's annotations of it, form the core of the book, accompanied by images of Jonas's live performance. Edited by Ute Meta Bauer, the illustrated 272-page publication includes a selection of research materials that Jonas collected over many years and an extensive conversation between Jonas, Bauer, and Hessler that unpacks the genesis of the project and how the artist explores environmental concerns while highlighting the intelligence, marvel, and beauty of the nonhuman creatures that cohabit our world.
Please RSVP to rsvp@swissinstitute.net.
Joan Jonas: Moving Off the Land
Edited by Ute Meta Bauer
With a conversation between Joan Jonas, Ute Meta Bauer and Stefanie Hessler.
Forewords by Francesca Thyssen-Bornemisza and Markus Reymann
Design by Mono.Studio, Berlin
17 x 24 cm, 272 pages
Published by TBA21–Academy and Verlag der Buchhandlung Walther und Franz König and distributed in the US by Artbook & D.A.P
40 USD
​​
Joan Jonas is a celebrated artist whose work encompasses a wide range of media including video, performance, installation, sound, text, and sculpture. Jonas's experiments and productions in the late 1960s and early 1970s continue to be crucial to the development of many contemporary art genres, from performance and video to conceptual art and theater. Since 1968, her practice has explored ways of seeing, the rhythms of rituals, and the authority of objects and gestures. Jonas has exhibited, screened, and performed her work at museums, galleries, and in large-scale group exhibitions throughout the world. She recently presented solo exhibitions at Hangar Bicocca, Milan; NTU Centre for Contemporary Art Singapore; the United States Pavilion in the 56th Venice Biennale; Tate Modern, London; TBA21 Ocean Space, Venice; and the Serralves Museum in Porto. In 2018, she was awarded the prestigious Kyoto Prize, presented to those who have contributed significantly to the scientific, cultural, and spiritual betterment of humankind. A show of her large-scale works opened at Dia Beacon in 2021 and will be on view through 2023. Her survey show at Haus der Kunst, Munich, Germany, opened in September 2022. Jonas is currently working on a retrospective set to open at the Museum of Modern Art, New York, in 2024.
Jonathan Balcombe is a biologist with a PhD in ethology, the study of animal behavior. His books include
Pleasurable Kingdom
,
Second Nature
,
The Exultant Ark,
and
What a Fish Knows
—a New York Times best-seller now available in sixteen languages. His latest book for grown-ups,
Super Fly
, won the 2021 National Outdoor Book Award for natural history literature. A children's story book,
Jake and Ava: A Boy and a Fish
, was published November 2021 by The Gryphon Press. Before focusing on writing books, Jonathan worked for several animal protection organizations, a medical technology firm, and as a professional editor. Jonathan has appeared in several films and television programs, including the 2021 film
Seaspiracy
, and the 2021 documentary on the aquarium fish trade,
The Dark Hobby
.  
Markus Reymann is Director of TBA21–Academy, a cultural organization he co-founded in 2011 that fosters interdisciplinary dialogue and exchange surrounding the most urgent ecological, social, and economic issues facing the Ocean today. Reymann leads the non-profit's engagement with artists, activists, scientists, and policy-makers worldwide, resulting in the creation of new commissions, new bodies of knowledge, and new policies advancing the conservation and protection of the Ocean. In 2019, TBA21–Academy launched Ocean Space, a new global port for critical ocean literacy, research, and advocacy. Located in the restored Church of San Lorenzo in Venice, Italy, Ocean Space is activated by the itinerant Academy and its network of partners, including universities, NGOs, museums, government agencies, and research institutes from around the world. Reymann also serves as Chair of Alligator Head Foundation, the scientific partner of TBA21–Academy. Alligator Head Foundation established and maintains the East Portland Fish Sanctuary and oversees a marine wet laboratory in Jamaica. Based in Venice, Italy, Reymann has presented on art and the oceans at conferences internationally, and represents TBA21–Academy in the Mission Healthy Oceans Board, as an officially endorsed Member of UNESCO's Decade of Ocean Science, and as an observer at the International Seabed Authority.
Image: Joan Jonas, Moving Off the Land, 2019. Performance at Ocean Space, Venice, 2019. Photo: Moira Ricci.