Jul 19 2023
Book Launch | By The Highway with Ser Serpas and Dora Budor
Wed | 7PM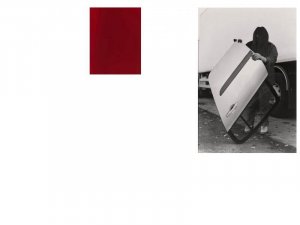 Please join us on the roof terrace of SI to celebrate the launch of By the Highway: a book of photographs by Ser Serpas and Rafik Greiss, accompanied by a new essay by Dora Budor. By the Highway is part of the book series Kontext by DISTANZ publishing. Many of the images in the book were included in Serpas's solo exhibition at Swiss Institute, Hall, which was on view from January 25-April 23, 2023. On the occasion of the launch, Serpas and Budor will be in conversation about the series and recent developments in Serpas's practice.
An accompanying print edition was released by DISTANZ while working on the collaborative project. For more info, please see here.
By the Highway
Ser Serpas with Rafik Greiss and Dora Budor
Published by Distanz
Edited by Matthias Kliefoth
112 pages, 82 color images and 35 b/w images, softcover
ISBN: English 978-3-95476-519-5 / German 978-3-95476-518-8
$16.00
Please RSVP to rsvp@swissinstitute.net.
Ser Serpas (b. 1995, Los Angeles) lives and works between New York, Paris and Tbilisi. She has had solo exhibitions internationally, including at LUMA Westbau, Zürich; Ludlow 38, New York; and Quinn Harrelson/Current Projects, Miami. In September 2023, Serpas will present a solo exhibition, I fear, at Bourse de Commerce, Paris. Selected group exhibitions include The First Finger, Bonner Kunstverein, Bonn; SIREN (some poetics), Amant, New York; The Puppet Show, Centre d'Art Contemporain Genève; Oxygen Biennial 2021 – Rites of Passage, Tbilisi; Dora Budor: Autoreduction, Progetto, Lecce; Ouverture, Pinault Collection, La Bourse de Commerce, Paris; and Made in LA 2020, Hammer Museum, Los Angeles. She has published the following books: By the Highway, Distanz, Berlin (2023); Guesthouse, Kona Books, Tbilisi (2021); Carman, Based on the Opera, König Books, London, UK (2018); Shade the King, Capricious, New York; amores perros, Publishing House, New York (both 2017).
Dora Budor (b. 1984, Zagreb) is an artist and writer who lives in New York. Selected solo exhibitions include Continent, Kunsthaus Bregenz; Incontinent, Gallery of Modern and Contemporary Art (GAMeC), Bergamo; Autoreduction, Progetto, Lecce; I am Gong, Kunsthalle Basel; Benedick, or Else, 80WSE, New York; and Spring, Swiss Institute, New York. Her work has been presented in numerous institutional exhibitions, including 59th Venice Biennale (2022), Hammer Museum, Los Angeles (2022), Tabakalera, Spain (2022), 58th October Salon | Belgrade Biennale (2021), Tbilisi Biennale 2021 (2021), Palazzo delle Esposizioni, Rome (2021); Migros Museum, Zürich (2021); Schinkel Pavillon, Berlin, (2021); Kunstmuseum Winterthur (2021). In 2019, Budor was awarded the Guggenheim Fellowship in Fine Arts. She is a regular contributor to art publications, including Mousse Magazine and Texte zur Kunst.