May 08 2019
Artist Talk and Panel | Tschabalala Self's Bodega Run and Food for Thought with Salimatu Amabebe, Dr. Nicholas Freudenberg, and Dr. Sayida Self
Wed | 7PM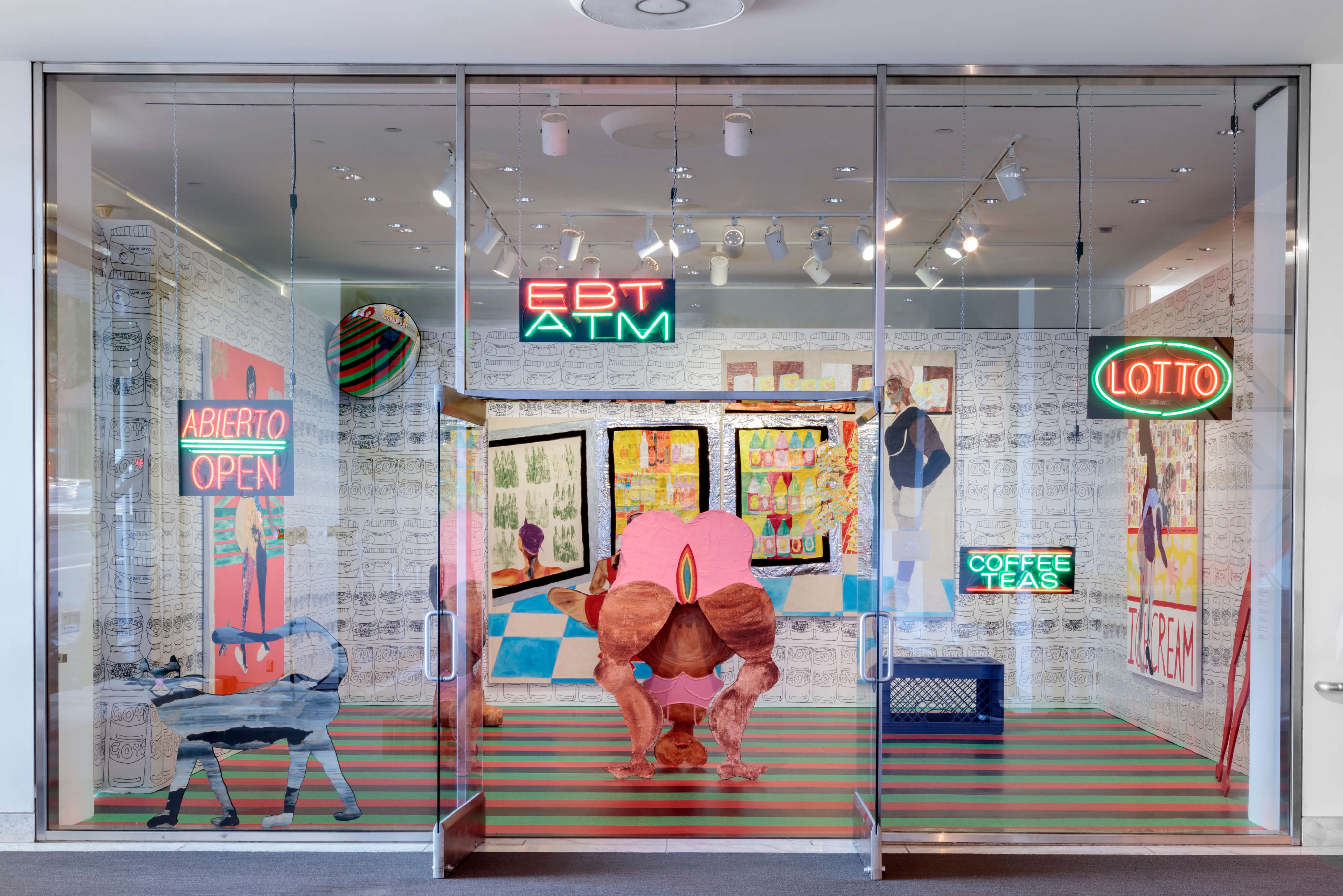 Please join us for an artist talk by Tschabalala Self followed by a panel on the social role and histories of food within urban communities of color.
The evening will begin with a lecture by Self focusing on her Bodega Run series, most recently on view at the Hammer Museum in Los Angeles. Interdisciplinary by nature, Bodega Run employs drawing, sculpture, sewing and painting to evoke the vital energy of the neighborhood convenience store. Against the tide of increasing gentrification, the bodega functions as a site of conversation, commerce and consumption. Self renders the store a persistent environment of sustenance.
Drawing from themes established in her artistic project, Self has invited afro-centric vegan chef and artist Salimatu Amabebe, anthropologist Sayida Self and public health practitioner Nicholas Freudenberg to engage in a discussion on the various dietary histories of people of color. Through this conversation, Self intends to illustrate the traditions of healthy eating within communities of color, and how neighborhood fixtures ranging from the bodega to the juice bar, shape these habits.
Please RSVP to rsvp@swissinstitute.net. Please note: events at Swiss Institute are limited capacity, and entry is on a first-come, first-served basis.
Salimatu Amabebe is a chef and multimedia artist based in Portland, Oregon. Amabebe runs the food and event company Bliss House, and hosts Naija Flavor, a dinner series centering plant-based Nigerian cuisine. Amabebe is also the founder and director of Black Feast, a monthly dining experience that celebrates black artists and writers through culinary interpretations of their work. Amabebe's work focuses on the intersection of food and art, drawing from family memories, recipes, and black culinary history.
Nicholas Freudenberg is Distinguished Professor of Public Health at City University of New York School of Public Health and Director of the CUNY Urban Food Policy Institute. His research examines the impact of food and social policies on urban food environments and health inequalities. The CUNY Urban Food Policy Institute applies interdisciplinary methods to study the role of the food sector in workforce and community development, evaluate urban food programs and policies, and identify innovative intersectoral approaches to reducing food insecurity and diet-related diseases in urban settings. Freudenberg is also founder and director of Healthy CUNY, a university-wide initiative to improve the health of CUNY's 274,000 students in order to support their academic success. His most recent book Lethal but Legal Corporations, Consumption and Protecting Public Health (Oxford, 2014 and 2016) examines how the business and political practices of the food, alcohol, tobacco, pharmaceutical, automobile and firearms industries contribute to the global rise of non-communicable diseases and injuries. Freudenberg was founder and first director of the CUNY School of Public Health's Doctor of Public Health program. For the past 35 years, he has worked to plan, implement and evaluate health policies and programs to improve living conditions and reduce health inequalities in low income communities in New York City and elsewhere.
Tschabalala Self (B.1990 Harlem, USA) lives and works in New York and New Haven. Recent exhibitions include: Bodega Run, Hammer Museum, Los Angeles (2019); Trigger: Gender as a Tool and a Weapon, New Museum, New York (2017), Tschabalala Self, Tramway, Glasgow (2017); Tschabalala Self, Parasol Unit Foundation for Contemporary Art, London (2017); Desire, Moore Building, Miami (2016); The Function, T293, Naples (2016); A Constellation, Studio Museum Harlem, Harlem (2015); Tropicana, The Cabin, Los Angeles (2015).
Dr. Sayida Self was born in New Orleans, Louisiana, but raised and educated in Harlem, New York.  She is a graduate of Northwestern University and the City University of New York Graduate Center. A cultural anthropologist, Dr. Self conducted her PhD fieldwork in South Africa and taught for a year at the University of Djibouti in East Africa. In South Africa, Dr. Self  examined the relationship between gender and ideological Pan-Africanism within the contexts of social movements. Dr. Self has worked as a gender advocate and researcher in the area of HIV/AIDS prevention and reproductive justice. She was also appointed as principal investigator for the Centers of Disease Control on research in HIV/AIDS education, testing and prevention research projects in Brooklyn, serving Afro Latina and Afro Caribbean women.  Dr. Self is currently adjunct assistant professor at Bronx Community College (CUNY) where she teaches courses in anthropology and sociology. In addition, she teaches at New York University where she lectures on cultural studies. Dr. Self's specialty is African and African Diaspora studies, gender studies and social movements.