Jeremy Shaw: Phase Shifting Index
Oct 13 -
Dec 30 2020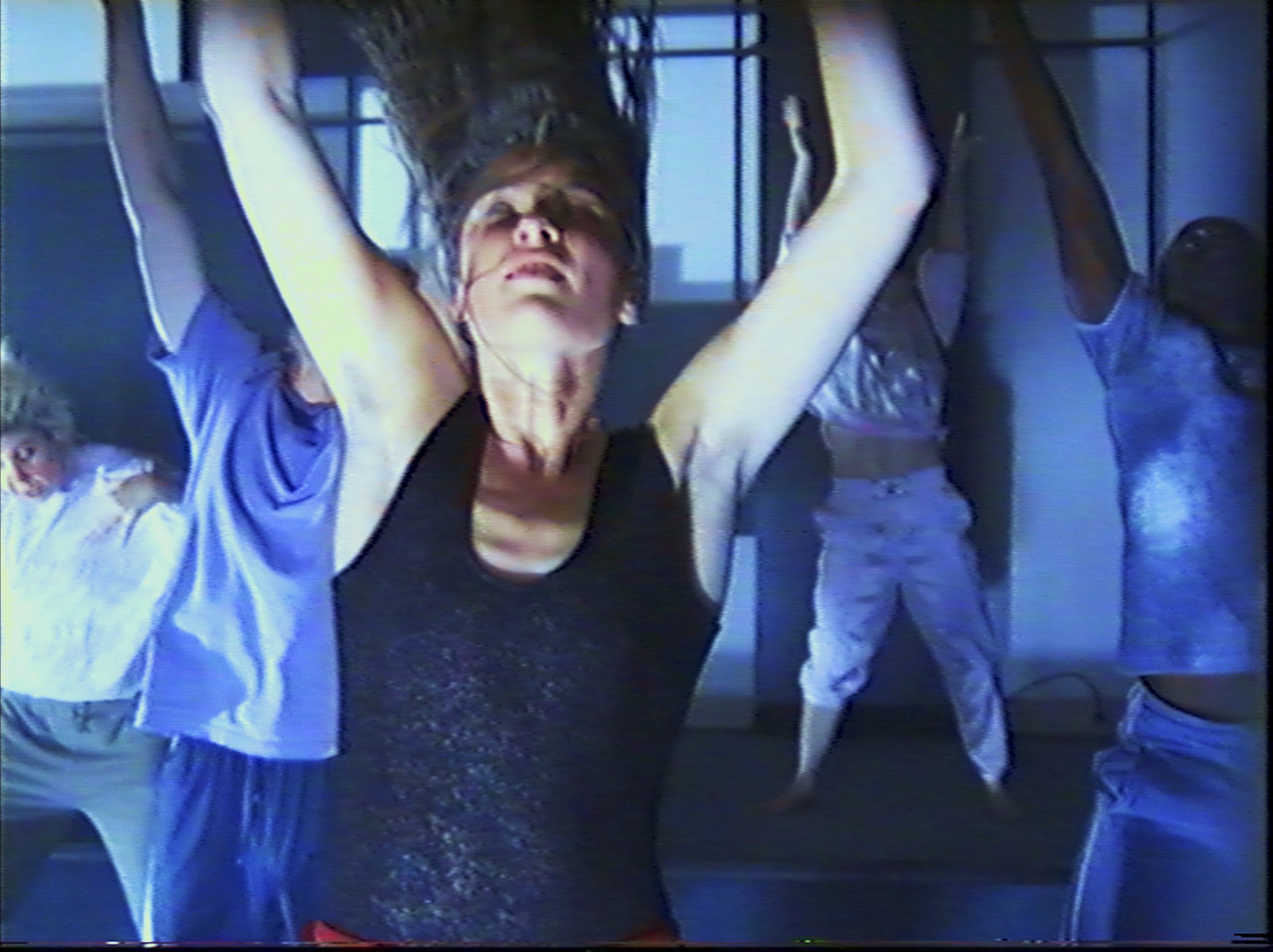 Swiss Institute is pleased to present Phase Shifting Index, a new exhibition by Berlin-based artist Jeremy Shaw (b. 1977, North Vancouver, Canada) that centers on a multichannel moving-image installation. Combining strategies from vérité filmmaking, conceptual art, music video and scientific research, Shaw's interdisciplinary works explore a universal desire for transcendence. His recent videos are set within the context of a parafictional future world in which advances in biotechnology have resulted in a near eradication of faith, propelling humanity into an extinction crisis.
Spanning two floors of SI, Phase Shifting Index (2020) documents a number of autonomous groups whose embodied belief systems and communal movement practices aspire to physically induce parallel realities. Set hundreds of years in the future, the videos are accompanied by voice-over narration in the past-tense, delivered in the omniscient style of mid-century ethnographic documentaries, and include candid interviews, spoken in mulched hybrids of human and machine tongue and subtitled in English. Shaw's use of outdated modes of 20th-century media – ranging from 16mm film to Hi8 video tape – combined with the styling and choreography of the subjects on screen, creates an uncanny familiarity with the material, which resembles found footage from the 1960s to the mid-90s. Body-mind centering, popping-and-locking, postmodern dance, jump-style, hardcore skanking and trust exercises are incorporated into exploratory sessions, held in the pursuit of fundamentally altering reality.
As the participants become more deeply absorbed in their efforts, and each disparate video builds towards a more furious pitch, the entire installation falls into a cross-temporal choreographic sync in time with a hypnotic musical track that consumes the environment. Across time and space, every body on every screen performs the same ecstatic series of movements, as heads plunge downward and roll up, and arms punch left and right. Coordinated movements eventually rupture, giving way to a digital chaos, in which those same bodies contort, collide, pixelate and drift between one another's worlds, before ultimately disintegrating into a vibrant, synaptic color field.
On SI's second floor gallery hangs a selection of works from Shaw's Towards Universal Pattern Recognition series. Archival photographs of possible moments of spiritual or perceptual expansion are seen under psychedelic lenses, which shatter and refract an element of each image. Amplifying the searching focus of the original photographer, the subjects are seen in a state of mutation and multiplication. 
About Jeremy Shaw
Jeremy Shaw's work in film, sculpture and installation has been exhibited extensively around the world, including solo shows at Centre Georges Pompidou (FR), MoMA PS1 (US) and Schinkel Pavillon (DE), and in group exhibitions such as the 57th Venice Biennale (IT), Manifesta 11 (CH), Stedelijk Museum (NL), and Haus der Kunst (DE). In 2018, he was awarded a residency at the Hammer Museum (US) and was the winner of the 2016 Sobey Art Award (CA). Works by Shaw are held in numerous public collections worldwide including the Museum of Modern Art, NY, Centre Pompidou, FR and Tate Modern, UK.
Phase Shifting Index was commissioned by the Centre Pompidou, Paris; Swiss Institute, New York; and the Museum of Old and New Art (Mona), Hobart. It is exhibited at the Centre Pompidou from February 26-July 27, 2020; at the Frankfurter Kunstverein, Frankfurt from September 24, 2020 – January 2021; at Musée d'art contemporain, Montréal from November 12, 2020 to January 31, 2021; and at Mona from June 6, 2021-April 5, 2022.
Phase Shifting Index is organized in New York by Laura McLean-Ferris, Chief Curator, with Daniel Merritt, Associate Curator. Jeremy Shaw, the first monograph on the artist (ed. Simon Castets and Christine Macel, published by Centre Pompidou, Paris and Swiss Institute, New York, 2020) was produced on the occasion of Phase Shifting Index and is available for sale on swissinstitute.net and from Printed Matter / St Marks.
SI gratefully acknowledges the support of Meyer Sound as Sound Partner, Designtex & Audimute as In-Kind Partners, and PIN–UP Magazine as Media Partner. Swiss Institute extends its deepest gratitude to the lenders to the exhibition: Raimondo Amabile; KÖNIG GALERIE Berlin, London & Tokyo; Macaulay & Co. Fine Art, Vancouver; Leyla Piedayesh; Dr. Yorck Schmidt; and those who wish to remain anonymous. Jeremy Shaw wishes to thank Cuno Andréhn Bärtås, Titus Maderlechner, Kai Müller and Nathan Whitford.