Dear Emily - Hi, this is andrea (the screening "curator") - I'm pretty excited for the screening, we're making the format a little untraditional and I wanted to let you know - in case you were interested in more information for your
listing. The format of the screening will kind of take inspiritation from kind of pop-culture saturation. While it will maintain a linear program, each video will be played simultaneously on multiple players (projectors,
televisiual apparati, etc) throughout the space, with a pretty bumping sound system. All in all, it will be "THE" place to be as the 2006 fall art season opens...

The SWISS INSTITUTE – CONTEMPORARY ART (S I) is pleased to open the fall season with a screening event, VIDEO ART, curated by Andrea Merkx featuring a selection of artist-made music videos.

This selection of artist videos arcs across the thirty-four year history of the promotional clip, charting a history of the intermixing of art and rock and roll. The program begins with the 1972, genre-defining, David Bowie video directed by photographer, Mick Rock, commonly regarded as the first promotional clip to contain all the formal elements of the "traditional" music video. Videos by other noteworthy figures continue this selection of works, featuring projects by artists such as Andy Warhol, Tony Oursler, and Sadie Benning. Focusing on music videos produced by directors better known as "artists," this collection of works functions as an inquiry into the relationship between the promotional format of the music video and the formal practice of the artists/directors included.

Andrea Merkx is a New York-based artist and musician.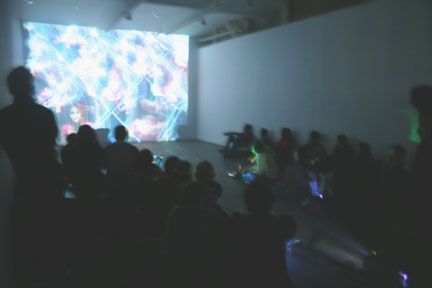 This is the fourth in a series of bi-monthly film and video screenings be held at the SI in 2006, organized by emerging New York artists and curators. The program is made possible with public funds from the New York State Council on the Arts, a State Agency.